Description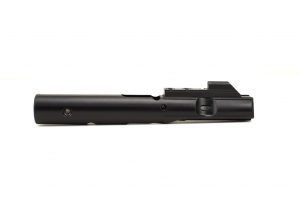 9MM Bolt Carrier Group, Black Nitride
ADK ARMS is proud to introduce our 9mm Bolt Carrier Group. Parts are manufactured in our facility in Elk Grove Village. Part does not require a special hammer to work with this item. Item has additional cutout to accept a Glock Magazine. Ramped Design For Use With Standard AR-15 M16 Hammers. Complete bolt assembly including: bolt, extractor, firing pin, firing pin retainer, and properly staked bolt carrier key. No need to use a special 9mm hammer.

Friendly Reminder: Always check your head spacing.

Special Notes:
This item needs to be maintained with oil/lubricant to keep its finish and prevent corrosion.
Never use damaged, bent, corroded, dirty, wet, or oiled ammunition.
You should only use commercial grade ammunition in its original packaging which corresponds with the caliber that is imprinted on the gun.
Do not use refurbished, reloaded, hand-loaded, or non-standard ammunition of a different caliber.
Product Disclaimer: Whenever you use a new or different bolt carrier group in an upper receiver, it's very important to have a gunsmith make sure that the head spacing is correct prior to operating the firearm. You should not switch out a bolt carrier group without doing this.
Legal Disclaimer: The buyer assumes full responsibility, and further agrees to assume full liability for compliance with international, federal, state and local laws, as well as for the use, misuse, or sustainment of any injuries to self and/or others by and through the usage of this item. By purchasing this item, the buyer agrees to hold the seller and its affiliates harmless, and fully indemnified against any and all claims (individual, group or stream-of-commerce), which may arise from the proper or improper; intentional or unintentional; and/or careless or neglectful usage of this item.
Written by Bureau of Alcohol, Tobacco, Firearms and Explosives (BATFE), Chief of the Firearms Technology Branch …M16 bolt carriers are not designed and intended solely and exclusively for use in converting a weapon into a machinegun and are not any combination of parts from which a machinegun can be assembled. Further, an M16 bolt carrier is not a firearm as defined in the GCA or a machinegun as defined in the NFA. An M16 bolt carrier is simply a machinegun part and as such its domestic sale and possession is unregulated under the federal firearms laws. It is not unlawful to utilize a M16 machinegun bolt carrier in a semiautomatic AR15 type rifle.