Description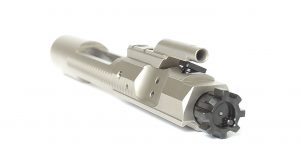 223 / 5.56 Bolt Carrier Group, Nickel Boron
ADK Arms tried and true 223/5.56 bolt carrier group is engineered and designed to the highest tolerances and military specifications and beyond. Nickel Boron finish ensures long term durability and lubrication. This item comes with an extra phosphate extractor. Each BCG features our famous MPI "bionic bolt" which has exceeded 50,000 rounds in full auto, fully suppressed testing without fail.
Carrier: AR-15 carrier DPMS compatible. 8620 heat treated (case hardened to SAE-AMS-6875).
Bolt: 9310 Heat treated (case hardened to SAE-AMS-6875) QPQ to AMS-2753C. Shot peened precision ground diameters. Magnetic particle inspected to ASTM E1444 aircraft quality inspection procedure for molecular soundness and longer life of the Bolt.
Extractors: Aircraft quality alloy steel shot peened. Heat treated to military drawing specification SAE-AMS-6875. Phosphated to 5.3.1.3 of MIL-STD-171.
Gas key: Gas key bolt, grade 8 fully knurled. Gas key, aircraft quality steel heat treated to SAE-AMS-6875 QPQ HT PROCESS .
Cam pins: Precision machined. Heat treated to SAE-AMS-6875.
Firing pin: Machined and precision ground for accuracy. Heat treated to military drawing specification per SAE-AMS-6875. Chrome lined per 1.2.2 of mil-std-171
Firing pin retaining pin: Unique designed custom steel pin contouring the carrier body. Heat treated to SAE-AMS-6875. Phosphated to 5.3.1.3 of MIL-STD-171.
Ejector: Precision machined. Heat Treated to SAE-AMS-6875.
Gas rings: Stainless Steel 3 Piece.
ENHANCED EXTRACTOR SPRINGS
To assure the highest degree of consistency and reliability, ADK Arms invests in premium extractor springs from Tactical Springs LLC / Sprinco USA along with a Mil-Spec Black Viton Extractor O-Ring per MIL-R-83248C. The springs are constructed from Chrome Silicon wirestock, a high tensile strength alloy ideally suited for high heat and high cyclic rate applications. The springs are heat treated, stress relieved, moly-plated, and most importantly, Cryogenic Processed post winding. While Cryogenic Processing typically extends the duty cycle of Chrome Silicon springs 3X – 7 X, these extractor springs have proven to surpass that multiplier. Unlike Music Wire or 17-7PH Stainless extractor springs which can require replacement at 2,500 to 5,000 round intervals for maximum reliability, this is likely to be the only extractor spring you'll require for the life of the bolt! Numerous accounts have been recorded from customers with round counts in excess of 100,000 cycles on a single spring and O-ring with no noticeable degradation in performance. You'll go through a number of barrels and extractors along the way to reaching that level, but the spring and O-rings can stay along for the ride.
Results may vary, but ADK Arms has spared no expense in our commitment to provide you the very best in long term performance and reliability of our products! Go here for more information on these springs.
Friendly Reminder: Always check your head spacing.
Special Notes:
This item needs to be maintained with oil/lubricant to keep its finish and prevent corrosion.
Never use damaged, bent, corroded, dirty, wet, or oiled ammunition.
You should only use commercial grade ammunition in its original packaging which corresponds with the caliber that is imprinted on the gun.
Do not use refurbished, reloaded, hand-loaded, or non-standard ammunition of a different caliber.
Product Disclaimer: Whenever you use a new or different bolt carrier group in an upper receiver, it's very important to have a gunsmith make sure that the head spacing is correct prior to operating the firearm. You should not switch out a bolt carrier group without doing this.
Legal Disclaimer: The buyer assumes full responsibility, and further agrees to assume full liability for compliance with international, federal, state and local laws, as well as for the use, misuse, or sustainment of any injuries to self and/or others by and through the usage of this item. By purchasing this item, the buyer agrees to hold the seller and its affiliates harmless, and fully indemnified against any and all claims (individual, group or stream-of-commerce), which may arise from the proper or improper; intentional or unintentional; and/or careless or neglectful usage of this item.
Written by Bureau of Alcohol, Tobacco, Firearms and Explosives (BATFE), Chief of the Firearms Technology Branch …M16 bolt carriers are not designed and intended solely and exclusively for use in converting a weapon into a machinegun and are not any combination of parts from which a machinegun can be assembled. Further, an M16 bolt carrier is not a firearm as defined in the GCA or a machinegun as defined in the NFA. An M16 bolt carrier is simply a machinegun part and as such its domestic sale and possession is unregulated under the federal firearms laws. It is not unlawful to utilize a M16 machinegun bolt carrier in a semiautomatic AR15 type rifle.